RSC Landscaping/East Coast Garden Center
Business Professional Spotlight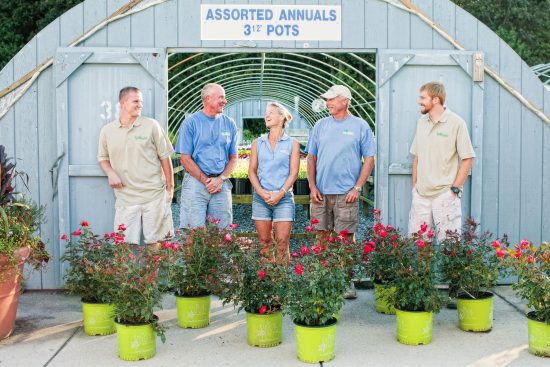 "Not Just A Nursery . . . A Destination" is the message that greets visitors to the East Coast Garden Center website. A visit to the Garden Center will confirm that statement. Serving seasonal and permanent residents in Sussex County, Rick, Valery, Chris, Steve, Ryan, and Mike Cordrey manage a wide-spread organization that includes a retail garden center in Millsboro, DE; educational programs for the general public and green industry; a design-build-maintain landscaping firm, RSC Landscaping; and a growing division that supplies annuals, perennials, shrubs, grasses, trees, and tropical plants for summer containers and indoor growing.
The Cordreys founded the East Coast Garden Center (ECGC) in 1990, when, "After years of not being able to find unique plant selections locally, the family decided to create their own growing division and garden center to fill the void". Open year-round, the ECGC employs about 130 full-time and 15 seasonal employees, with educational backgrounds that range from high school to university experience. Competition for all levels of skilled labor is fierce in that part of the state, and the Cordreys are always working to attract and retain their employees.
East Coast Garden Center and RSC Landscaping signature styles include unique and colorful seasonal containers with irrigation systems that support the container plantings, as well as year-round landscapes that stand out from typical residential landscaping. Chris, who leads RSC Landscaping, prides himself on designing landscapes that are made to survive and remain attractive well beyond the life of an average builders' landscape packages. That's a challenge in an area with a lot of new construction where the lack of native soil can create difficult growing environments. He has created an oasis of container plantings that protect and beautify a restaurant located in the middle of a parking lot near a busy highway in Rehoboth Beach. (read about the containers (here))
Valery spends most of her time at the Garden Center, where she oversees the busy retail operation and educational programs. For her, that's the best part of the business. Staying up-to-date with plants and gardening techniques is "fun and exciting". She loves spring, when customers old and new return to the Center, eager to get gardening and find out what's new.
Valery has another facet to her profession: she is currently the President of the DNLA Board of Directors. The Cordreys have been members of the DNLA for about 20 years, and find great value in the opportunities for networking with the green industry and liaison with the government to address issues of importance to all members. They also have a deep interest in the health and well-being of their community. Cordrey Charities and Community Roots provide outreach, education, and funding to schools and the community to promote the use and benefits of plants.
Valery and Chris are always looking for trends in the industry that will help them grow and maintain their business. Valery cites the increasing number of new and improved plants, an interest in dwarf plants, and edible plants in containers and decorative landscapes. Chris is seeing more container gardening in small homes, outdoor living spaces, and a renewed interest in houseplants.
"What will you discover?" That's a question the Cordreys are always asking. It's also their advice to members of the green industry. "Keep learning, and changing, stay ahead of the curve," says Valery. Chris adds "Stay ahead of the status quo." The result is a thriving business that is enthusiastic and forward looking, always looking for something new, be it in plants, new enterprises, or education.
East Coast Garden Center
30366 Cordrey Road, Millsboro, DE 19966
Garden Center: (302) 945-3489
RSC Landscaping Office: (302) 945-5853
https://www.eastcoastgardencenter.com/
https://www.facebook.com/eastcoastgardencenter/
RSC Landscaping/East Coast Garden Center
Address: 30366 Cordrey Road, Millsboro, DE 19958