Burke Equipment Company
Business Professional Spotlight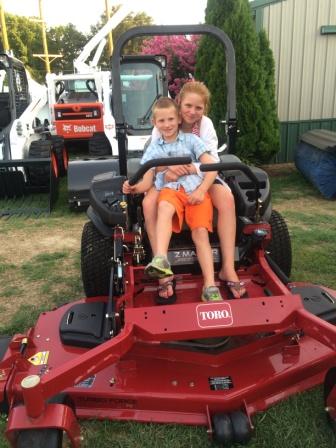 Say "green industry", and chainsaws and tractors don't immediately come to mind. But for CeCe Babbitt, of Burke Equipment, that's exactly what the green industry is about. Effective, efficient farm, lawn and landscape equipment is essential to the preservation of our environment, and that is what Burke Equipment strives to deliver. Their motto is, "Turning the earth into a better place."
Burke Equipment has been in business since 1949. Mark and CeCe Babbitt acquired the business in 1999, when the long-term owner decided to retire. The Babbitts continued the tradition of family ownership and expanded the business from two to three locations, one in each county in Delaware. Today, Burke Equipment staff includes 45 full time employees and 1 part time person. "We have a terrific employee base – loyal, and long-term," CeCe explains.
There is a lot to keep track of, too. Burke Equipment is a full service company, focusing on sales, service, rentals, and parts for farm and landscape equipment – everything from Kubotas to lawnmowers to chain saws. Kubotas are a specialty, and Burke Equipment has attained the status of Elite Dealer from the company, the highest honor Kubota conveys. Customers come from agriculture, construction, landscaping and maintenance, as well as homeowners in Delmarva and surrounding areas. The addition of an eBay store has expanded their reach outside the U.S.
Training and employee development are priorities at Burke Equipment. Parts and Service employees are trained in all technical areas and are certified with the equipment manufacturers. Sales staff are trained in all equipment, especially newly introduced products. "We're always looking to get better at what we do and help our customers," says CeCe.
Burke Equipment has been a member of the DNLA since 1992. Membership helps them partner with their existing clients and reach out to potential customers. They hosted a meet-and-greet event in September, and hope to provide workshops and demonstrations at future DNLA events. Supporting the DNLA is a good way to support the green industry and reinforce the role of equipment in being green.
For CeCe, interaction with people is the best part of being in the equipment business. She and her employees truly enjoy connecting with customers and getting their feedback. Burke Equipment is active in the community, as well. They have supported the Delaware Food Bank, Delaware Technical & Community College, and Kent General Hospital. Their focus on employees has been recognized, too, having qualified for the State of Delaware Workplace Safety Award.
When asked what trends she sees in the equipment business, CeCe says, "Creature comforts." More and more people, especially commercial clients, want heat, air conditioning, enclosures, special attachments, and other features that make work easier and more productive. New steer-skid loaders, or SSV, are also generating a lot of interest.
Finally, some words of advice from CeCe. "Work with companies that have experienced sales staff that know its products well; who are aware of trends in equipment; who want to know your needs and the challenges of your work or business; and provide good support for the equipment after the sale." Then she says, with a smile in her voice, "Buy tax-free and orange."
Burke Equipment Company
Address: 54 Andrews Lake Road, Felton, DE 19943